The interdisciplinary and integrated research approach in EDC-MixRisk focuses on the effects of mixtures of endocrine disrupting chemicals (EDCs) on children.
Three health domains are defined: growth and metabolism, neurodevelopment, and sexual development. The researchers involved will develop risk assessment of EDC mixtures through improved understanding of health effects in these domains and underlying mechanisms.
Epidemiology, experimental research and risk assessment
EDC-MixRisk is divided into three scientific modules: 1: Epidemiology, 2: Experimental research and 3: Risk assessment and societal impact:

1: Epidemiological studies will be used to identify EDC mixtures correlated to adverse health outcomes on growth and metabolism, neurodevelopment, and sexual development. Two large European epidemiological pregnancy cohort studies (SELMA and The LIFE Child Study), including 3000 mother-child pairs followed from early pregnancy up in school age, will be used for identifying critical EDC mixtures that are related to adverse health outcomes in these domains.
2: Experimental investigations in animal and cell models will uncover molecular mechanisms underlying effects seen in the epidemiological studies, focusing on finding molecular initiation events and understanding adverse outcome pathways.
3: EDC-MixRisk will develop an approach for evaluating, integrating and synthesizing complex datasets for EDCs and mixtures.
This interdisciplinary approach, integrating epidemiologic and experimental evidence, will facilitate assessment of risk and societal impact aiming at better risk management for EDCs and their mixtures.
Scientific project workflow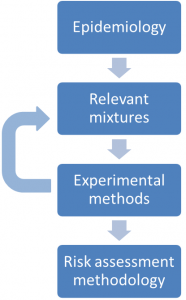 The workflow will start with biostatistical analyses of already collected epidemiological material in order to identify mixtures associated with adverse health outcomes. The mixtures will then be prepared by two highly experienced chemical laboratories and tested in the different model systems, focusing on molecular initiating events and adverse outcome pathways.
Experimental results will subsequently serve as basis for assessment of risks posed by these mixtures, and of societal and ethical impacts of the findings. Additionally, they will be used to refine epidemiological and biostatistical analyses, generating novel information that, in turn, will be tested again in selected models.
Read more about our research in your language:
English: EDC-MixRisk_English
Finnish: EDC-MixRisk_Suomi
French:EDC-MixRisk_Français
German: EDC-MixRisk_Deutsch
Greek: EDC-MixRisk_στα ελληνικα
Italian:EDC-MixRisk_Italiano
Swedish: EDC-MixRisk_Svenska